Our Custom Framers
The Art Shop has been the Triad's most trusted custom framer since 1899. The experience and longevity of The Art Shop's framers are unprecedented in the industry.
All of our career framers have anywhere from 15 to 30 years of experience. They have won awards as much for their technical expertise as for their creativity. Each job is delivered with utmost skill and reliability, whether handling basic everyday items or priceless museum-quality artwork.
All framing is done on-site at our state-of-the-art framing facility located within our 5500 square-foot gallery. Using the most innovative tools and technology, we are able to deliver a superior quality product.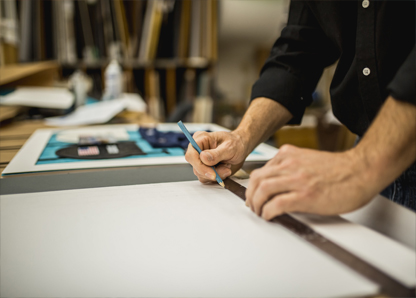 Frequently Asked Question:

Q: I have a project that needs to be completed very quickly. Would The Art Shop be able to help us with a quick turnaround?
A: We can't tell you how many times we've been called by someone who needs a same day framing order completed, or wants damaged frames repaired right away. As long as our schedule is clear, we are happy to help you with your same day order.
Our Frame Designers
Let our experienced designers help you select the perfect frame to enhance your artwork. We will make sure you are never overwhelmed with choices, or underwhelmed with creativity!
We believe the art is the first thing one should see when entering a room, not the framing. Our goal is to compliment the art – not compete with it. We always strive to exceed your expectations and provide a classic look you will enjoy forever.
All of our frame designers have been with The Art Shop for 10 years or more. With this experience comes the ability to find a design that is perfectly tailored to your personal style.
Our Frame Selection
We are very proud of the frame options we are able to provide for our clients. The Art Shop has thousands of moulding and mat selections in a variety of styles. We consistently refresh our frame collections to remain current with the latest trends in the picture framing and interior design industry.
In addition, The Art Shop offers 22K gold leaf hand-carved frames in over 30 profiles and finishes from which to choose. They are particularly stunning on portraits, oil paintings and mirrors. The techniques used to carve and gild have remained virtually unchanged for over 500 years.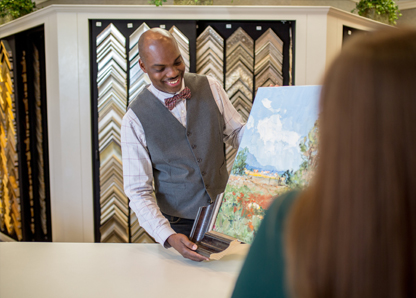 Frequently Asked Question:

Q: Can I select frame samples remotely?
A: Sometimes there just isn't enough time to get to a frame shop and browse through hundreds of frame samples. If this is the case, we can narrow down a selection of frames that is right for your project. Tell us the style of frame you are looking for and your budget and we can email or text you options. If you need to see the frame samples in person, we can even bring them to your place of business!
Frequently Asked Question:

Q: Can The Art Shop handle a large scale project?
A: Definitely. We have worked on projects that required us to purchase, frame, and install artwork for over 100 rooms, many with multiple pieces. We have the experience and manpower to meet your deadline.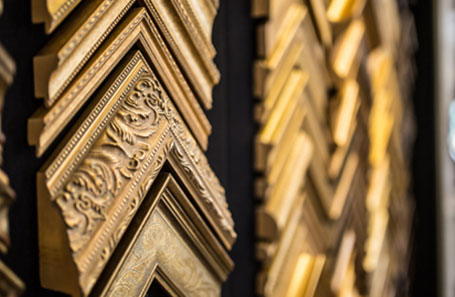 Frequently Asked Question:

Q: My client is on a tight budget. Will we be able to custom frame at a budget friendly price?
A: Just because your client is on a budget, doesn't mean you have to go with a store bought ready-made frame. We can custom build beautiful frames in the same price range. Because we order in larger quantities, moulding companies are able to provide us generous discounts. We pass that savings on to you, allowing you to pass it on to your customer.